If you're anything like every other bride on the planet who's planning an outdoor ceremony, you've been refreshing the 10 day weather forecast for your wedding location and day since, like, 20 days ago.
At least, that's what I did and 10 days before my wedding I found out it was going to rain on my wedding day.
As soon as I saw the forecast I hit the internet for ideas to work around the rain and found some cute pics of wellies, umbrellas, etc. but nothing to really calm my nerves and certainly nothing from a bride who had to deal with actual rain.
Now that it's all over I wish someone had told me what I'm about to tell you:
Girl, take a deep breath. Everything is going to be okay. You planned to have your wedding outdoors, you know, in beautiful "nature." Rain is a big effing part of nature. Embrace that ish, move on, and have fun!
Seriously, from one rained out bride to another, here are the steps you need to take to have a BAD ASS wedding, not despite the rain but because of it!
1. Be decisive: Do not agonize over what you're going to do about, or how you're going to cope with, the rain. Decide early on what you want to do if it's raining and stick to it.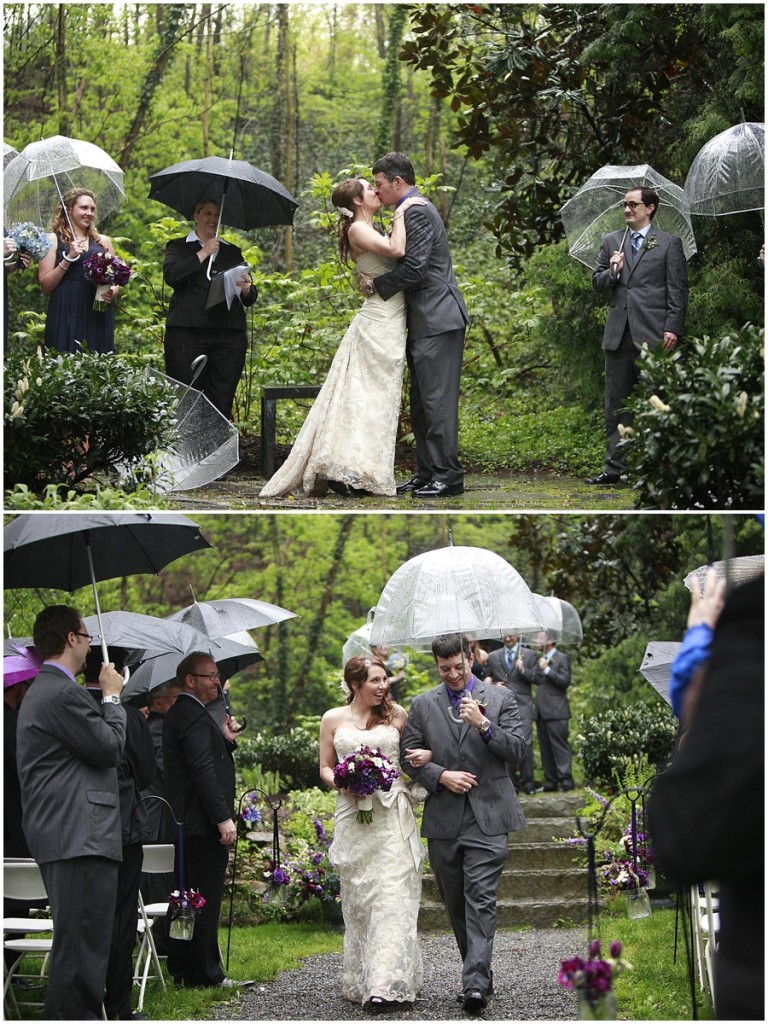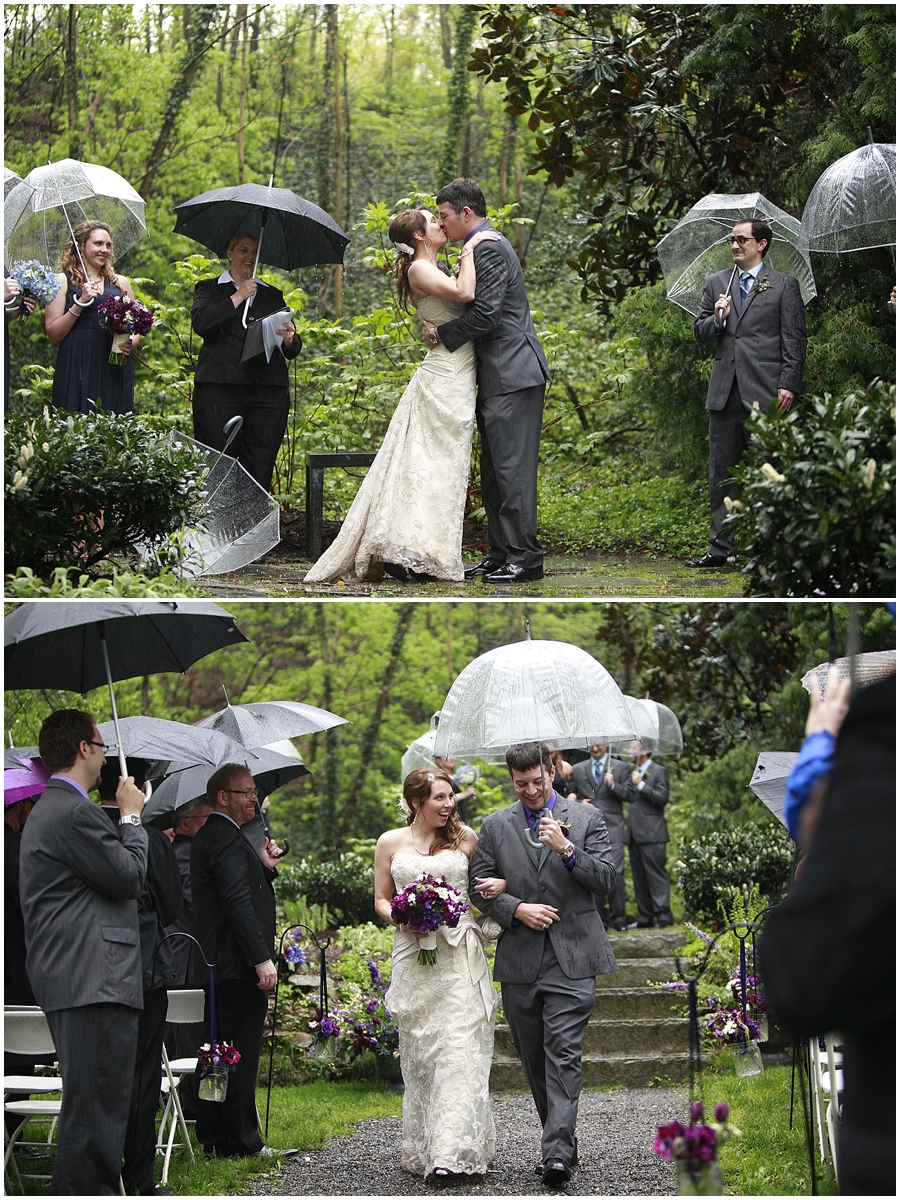 We wanted an outdoor ceremony no matter what. So, we told our guests to bring umbrellas and plan to either stand the whole time or get a wet ass.  And they did! Because guess what? It's your wedding day! This is the one time in your life you can tell a huge group of people that they have to stand in the rain and they will be happy to do so!
You want your ceremony outside? Have it outside! You're okay with the inclement weather plan for your venue? Then go ahead and decide to have it inside!
Regardless of your decision, don't agonize over it for longer than 10 minutes because that will only stress you out. Discuss your plan with your fiance and venue, make a decision, and go with it.
2. Trust your vendors: You hired professionals who are familiar with your venue, their craft, and the local weather. Trust them to do what they're good at.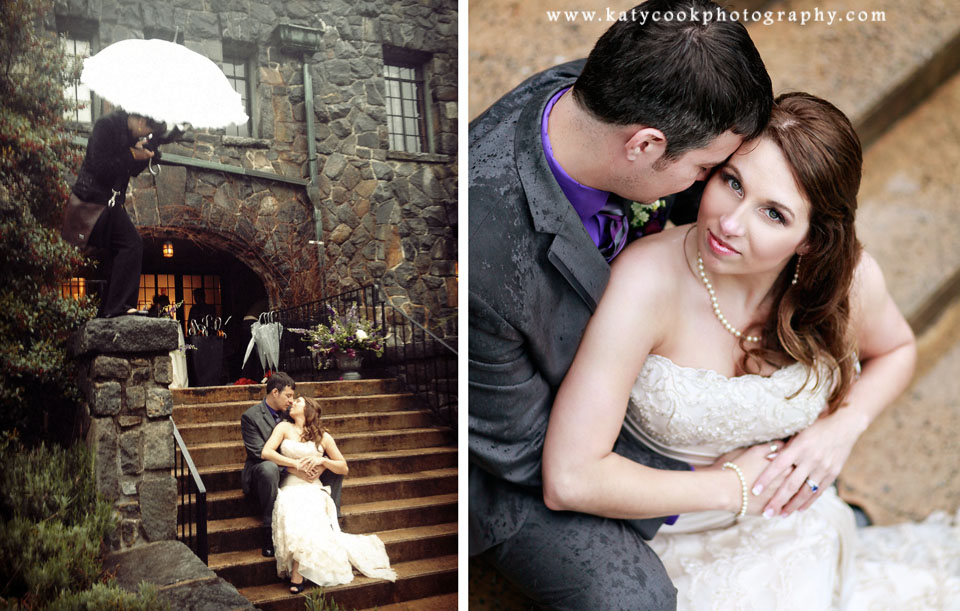 When we told our vendors we wanted to do it outside, even though it was raining, they didn't even bat an eyelash. In fact, our photographer got really excited because no one EVER opts to go outside in the rain.
Remember, this is *your* day and not only will your guests do what you want, but so will your vendors. Relax, and trust them.
Your photographer will do what needs to be done to get the shots you wanted (ours scaled a wall and brought an assistant to hold an umbrella over her and her camera). Your florist will get everything set-up, whether it's indoors or outdoors. Your officiant can hold an umbrella throughout the ceremony, and depending on your music selection, your DJ or live music will make it work.
3. Be prepared: We all know you've been looking at the forecast. Go buy matching umbrellas for your wedding party and some cute wellies like, NOW.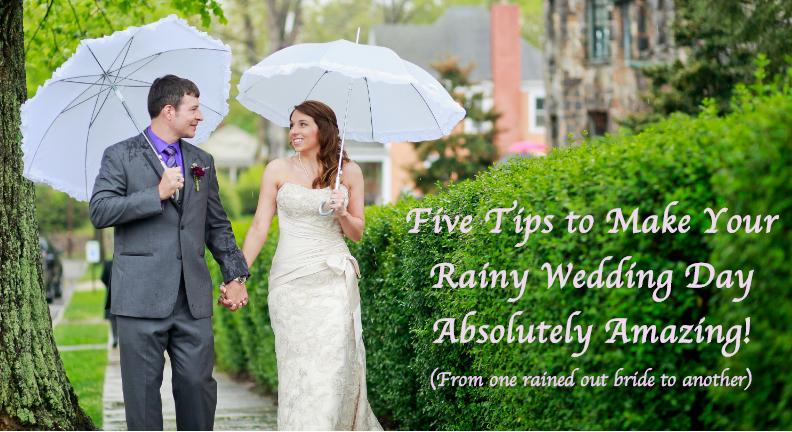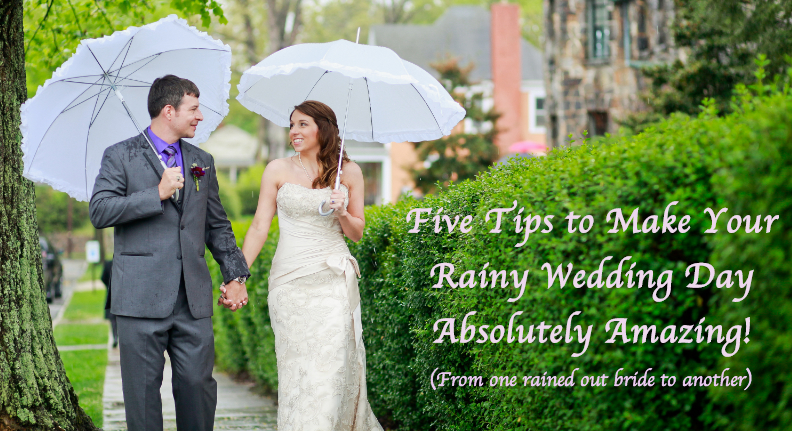 So it's going to rain – get over it and get ready! Nothing is more romantic than a bride and groom holding matching parasols. Nothing is more adorable than an entire bridal party holding matching umbrellas.
And if you want some cute wellies to match your wedding colors, start shopping ASAP! And remember, if it doesn't rain you can always return what you purchased after the wedding!
I had to go to four Target's to get eight clear bubble umbrellas for our wedding party. And I knew my Grandma was telling me she couldn't do anything about the rain from heaven when I scored $70 wellies covered in owls for only $17 at DSW.
While it broke my heart that I was shopping for that stuff 5 days before my wedding, I am SO glad I had the foresight to do so! We rocked it!
4. Embrace it: Hey! It's raining on your wedding day! You're gunna get wet! Have fun with it!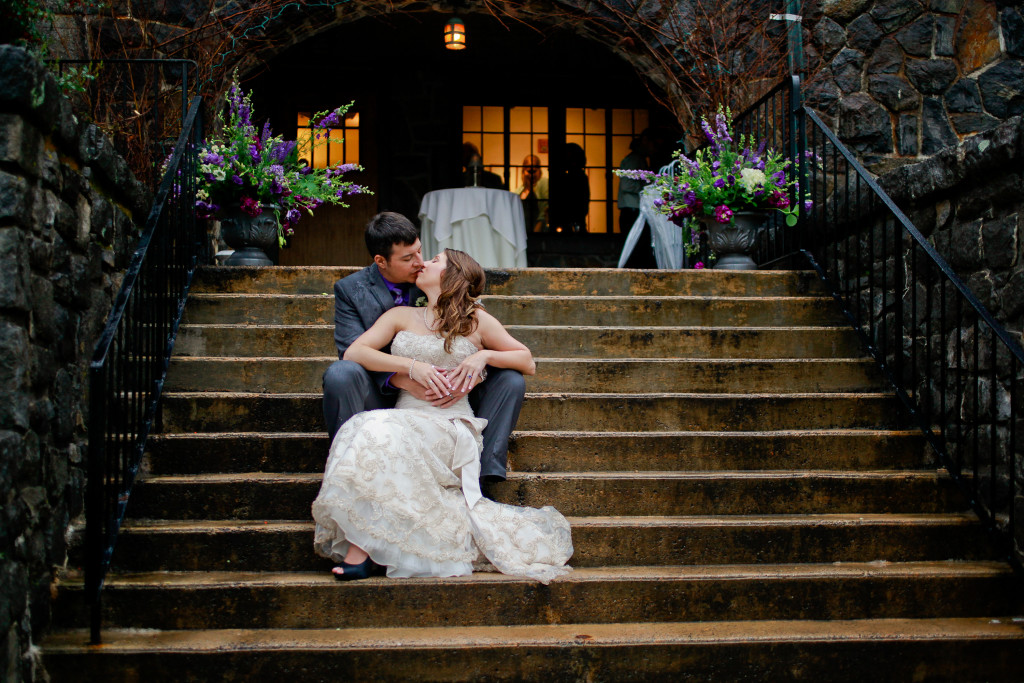 Seriously, get over it and embrace it. You're going to get wet, so go ahead and get some awesome, unique photos! Or even better – get the photos you wanted in the sunshine but with rain drops and adorable umbrellas!
Don't be afraid to sit down in that dress – it can be laundered. Don't be afraid to not be completely covered by an umbrella – those drops will make you glisten! And your fiance probably rented that tux, so don't worry about him sitting down either!
It's raining on your wedding day! Embrace it, go have fun, and get wet!
5. Appreciate it: Some seriously beautiful things happen when it rains on your wedding day…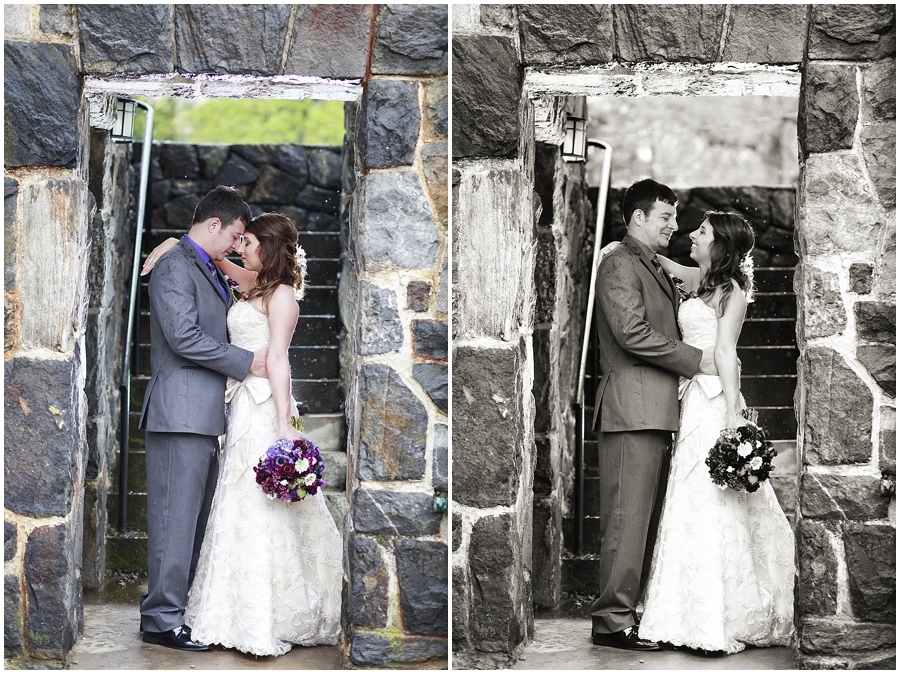 The color saturation in your photos is going to be 10 times more beautiful in overcast/rainy weather than in the brilliant sunlight.
The pomp and circumstance of your wedding ceremony – the part that makes you the most nervous – will completely dissipate when umbrellas and rainboots come out.
There will be an amazing sense of camaraderie amongst your guests when they all have to traipse out to your ceremony site holding umbrellas and laughing at the rain.
This is going to sound cheesey but it is true: Your smile will be brighter and more brilliant than any sunshine that could have been in your photos. And the rain will only make you shine even brighter.
No one, I mean NO ONE, will forget watching two people declare their love in the rain. Which means that your wedding will, quite literally, be unforgettable.
Bonus Tip: Send Alanis Morissette a big, mental F-You for making 'rain on your wedding day' seem like a bad thing.
Rain on your wedding day doesn't have to suck, and it damn sure isn't ironic. Take my advice and it might just be the best thing that ever happened to your wedding!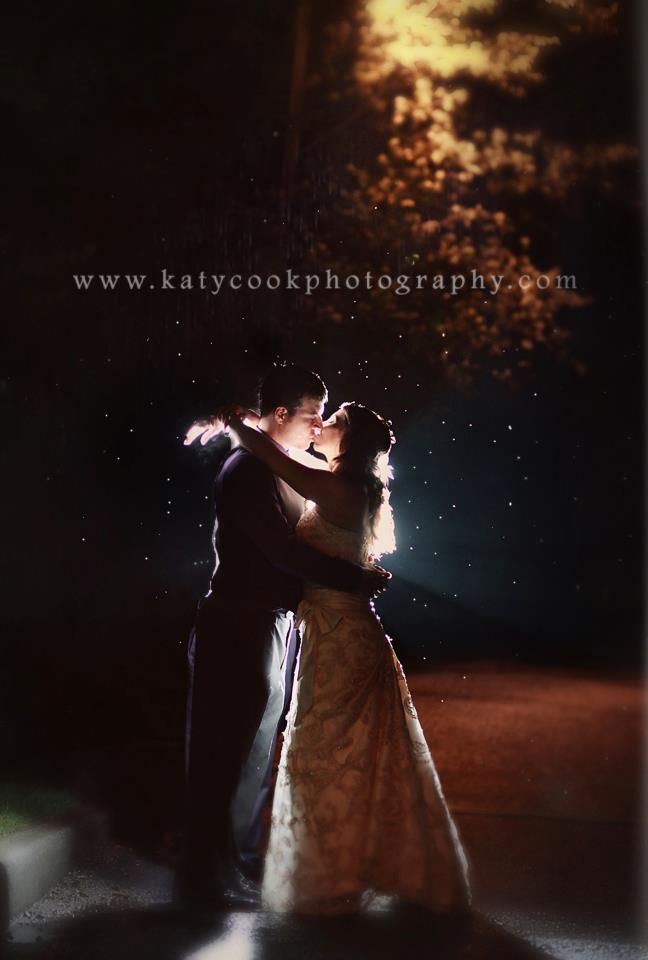 All photos courtesy of the most amazing, most talented, most fantastic Asheville wedding photographer EVER who helped make our day absolutely unforgettable: Ms. Katy Cook of Katy Cook Photography.