Wait, wait, wait,… Lucky Who?
I realize claiming to be THE Luckiest Girl Ever can sound fairly cocky, so I'd like to take this opportunity to share a little bit about me, and explain why I lay claim to being "the luckiest girl ever."
But if you happen to think you're luckier than me, that's fantastic! We should ALL feel like the luckiest people on Earth, as often as possible, and I am delighted to share the title.
A few of the ways in which I'm lucky…
My amazing husband, Vince:
December 5, 2004 was my first day bartending alone and his first morning after breaking up with his girlfriend. He needed a celebratory steak, I needed to meet the man that would make me re-evaluate everything I thought I knew about love. Whaaa laa.
Eight and a half years later, on April 28, 2013, we were married on a beautiful, rainy day in Asheville, North Carolina. It was the happiest day of our lives.
I don't take a second of his presence in my life for granted. I know how lucky I am to have found him and love that we will be spending the rest of our lives together.
My friends:
The family that chose me instead of the family that got stuck with me. I have so many little networks full of love, I don't even know where to begin sometimes. There's highschool friends, Red Lobster friends, Tallahassee friends, Andrews Downtown friends, Tony Roma's friends, Kellyco Friends, and now Remington friends.
Somehow I managed to collect a a heap of fantastic people from each of my little lives, they keep up with me and I with them, and I am so, so fortunate that they care. They keep me from getting too serious about life, and from not taking it seriously enough. They're the ones who make it fun, and I am so lucky to have all these people who think I'm interesting enough to cart around in life.
My family:
When my mom fell through, I had my grandmother. When my grandmother passed away, I had my Dad, and when I was alone in Central Florida, I had my Uncles.
I have been blessed with family members who never gave up on me (even when they should have) and who have helped me grow into who I am today. I don't take them for granted – not everyone has people who support them even when they suck. And yes, I know how lucky I am to have so many people who believe in me.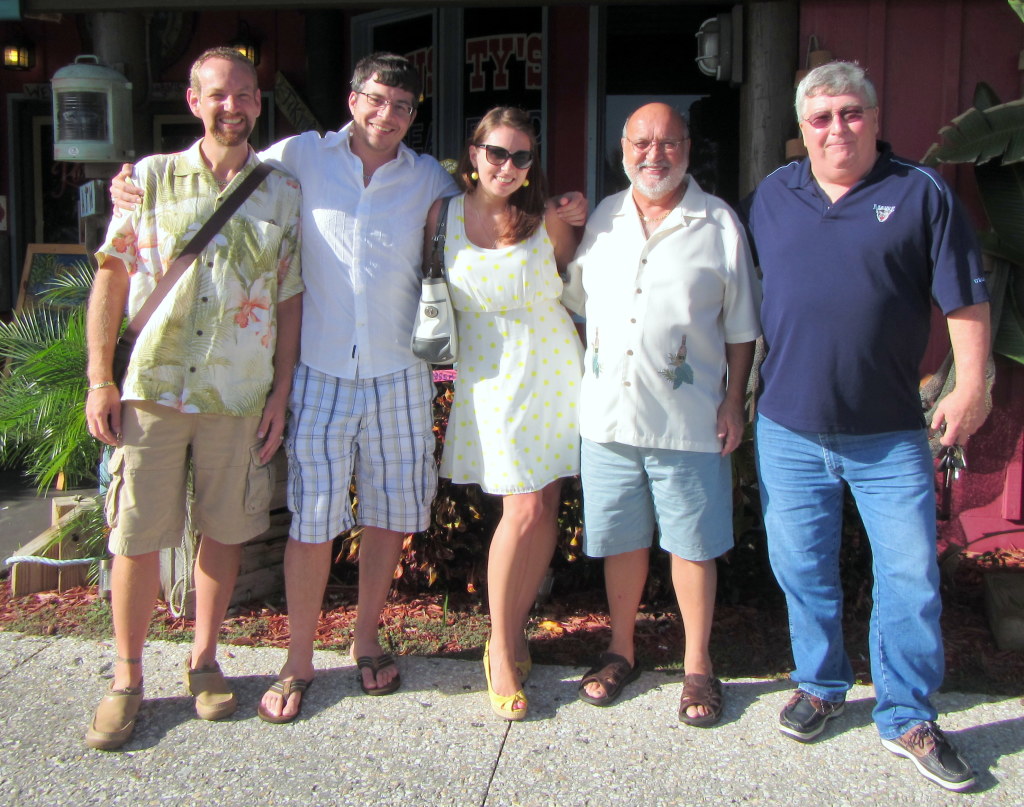 My lifestyle:
I grew up in two places – one was the back end of a dirt road in a small county that left me naive in all the right ways. The other was a small, average suburbia that I never seemed to fit into. I could have easily ended up blending into either and accomplishing nothing at all.
But I was given opportunities to meet people that have opened my mind to amazing perspectives and possibilities. Now I have friends all around the country and a beautiful home in Orlando, FL. I don't take any of it for granted, and I know how easily this could have all slipped from my grasp.
My career:
I majored in English and there's not a whole lot of prospects out there for us English graduates now-a-days. But thankfully I had the foresight to be a complete geek in high school (yeah, foresight, that's totally what it was… *coughbullshitcough*) and used every opportunity possible to work on the web.
Unlike so many other English-focused people in these economic times, I enjoy a challenging career rife with opportunity. I don't take that for granted. I know how lucky I am to have fallen into an industry I love.