Deep in the list of my blog's 'drafts' section there lies a post that discusses my issues with picking just one or two wedding colors.
Selecting colors was something I *really* struggled with in the early stages of wedding planning… along with picking a location, a venue, a florist, a dress… yadda yadda yadda…
The challenges were many, but the main issues were something like this:
I love purple.
Vince prefers blue.
My dress was champagne which we thought went best with a black tux, but he was really loving the dark gray one.
There are zero purple chiffon/flowy bridemaids dresses that aren't strapless (for Grace) but that do have a good length (for Jess).
We wanted the groomsmen to contrast Vince, but we didn't know how to make that happen.
I wanted Cody to match the bridesmaids since he was on my side, but we didn't want him to stand out more than Vince.
Vince and I sat down and went through lots of wedding photos that we liked, but it was when we interviewed Asheville florists that we finally figured it all out: We wanted a Tanzanite-colored wedding – venue decore and wedding party outfits that would match our engagement ring that we love so much.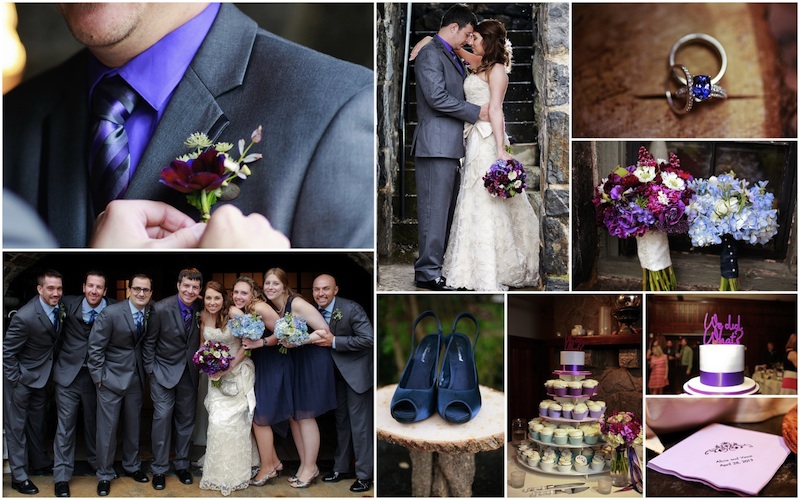 How our vendors helped us pull ALL the blues and purples together:
Our florist accessorized Vince and me with dark purple flowers, while our wedding party got light blues and the venue got a mix of both.
The baker suggested we have dark purple to light blue ombre-colored tier of cupcakes.
Mitch Fortune, our DJ, brought in purple uplighting.
Grace and Jess wore navy dresses and pewter-colored sandals.
Jon, Dave, Kellan and Cody wore light blue shirts with navy ties and blue stripped socks.
Vince's shirt was dark purple while his tie, socks, and undies were purple and gray stripes.
My shoes were a lovely navy satin.
I ordered napkins in purples and blues, and brought my ranunculus invitation design into the table numbers and ad-lib cards.
I'll never forget our florist and venue coordinator asking me if I wanted to take a look at my reception area before the wedding. I peaked in and lost my breath. It was so much more than I ever imagined. I couldn't even take it in properly.
I'm sure at the time my reaction seemed less than enthused because I was truly so shocked at it all. It was everything I wanted and worked for, but I had no idea it was going to turn out that way. I distinctly remember looking around, nodding, and going "wow! okay!" and then hauling ass to the ceremony.
When it all came together, it truly was a reflection of our Tanzanite.