Since ours was a destination wedding that required guests take a pricey vacation, Vince and I wanted to a) hang out with our friends as much as possible, and b) feed/inebriate people as much as possible.
So when it came time to plan the rehearsal dinner, we knew we wanted to host pretty much everyone attending the wedding. The big question was "Where in Asheville could host 60-70 people….?"
The answer: The Battery Park Book Exchange and Champagne Bar in Downtown Asheville, NC.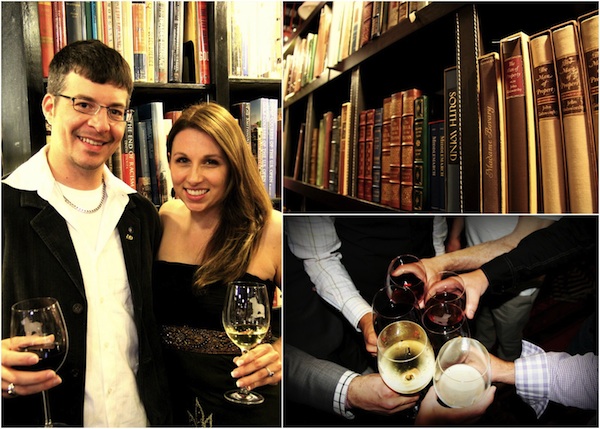 How We Found the Battery Park Book Exchange and Champagne Bar:
Our April 2011 visit to Asheville was cold and wet. Like, snowing cold and sleet wet.
So instead of running around downtown, we ended up running from store to store seeking warmth.
That's when we stumbled into the Battery Park Book Exchange and Champagne Bar.
Floor to ceiling books, an exclusive wine and champagne menu, blood orange mimosas, a maze of shelves that led to nooks with squishy chairs and leather couches, dog friendly accomodations, and free wifi.
I fell in love as soon as we walked in.
In fact, I spent about 4 hours reading a book on a leather couch tucked into an upstairs nook.
As if I weren't already inlove with the place, as we were leaving I saw a painting of the beautiful lady with a nipslip. I knew then that the BPBX would forever be our home away from home.
How We Had Our Rehearsal Dinner at the BPBX:
We looked everywhere for a rehearsal dinner spot in Asheville that could accomodate up to 70 people. We considered 12 Bones BBQ (for something super duper casual), a small Thai restaurant we go to every time we're in Asheville (but our family doesn't eat Thai food), and a few other local joints. But nothing was really working for us and the date was looming.
And then, on a whim, I hit up the BPBX website and noticed that they had an option to host a private event.
I screamed, told Vince, and we pretty much stalked the owners until they let us rent half the venue for the night before our wedding.
We ended up with less of a 'rehearsal dinner' and more of a 'rehearsal cocktail and noshie par-tay.' And it. was. awesome!
60 people came to the BPBX for us, and we snacked on amazing gourmet noshies like a huge cheese plate, fresh fruit, sweet meatballs, homemade spinach dip, and these little chicken salad cuppies that were amazeballs!
As for beer and wine, it was local-only selections for beer (can I get a shoutout for Rocketgirl Lager?!) and my personal favorite: Blood Orange Mimosas!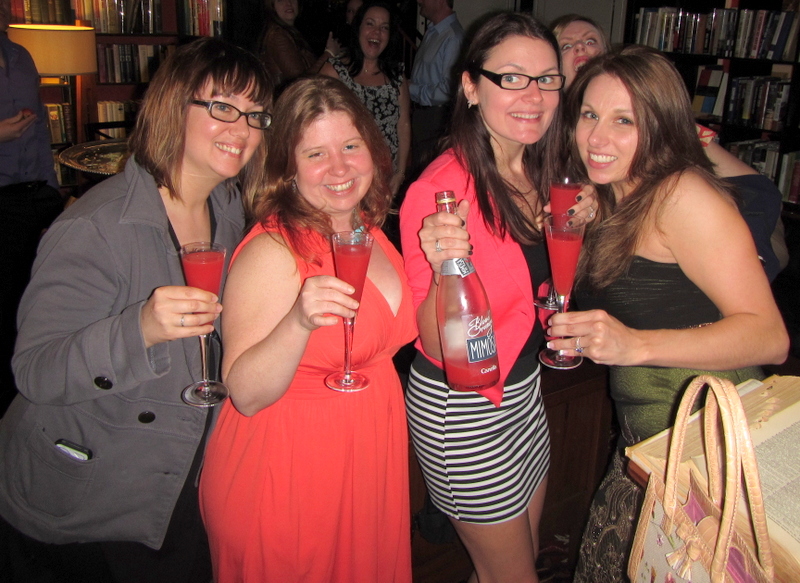 Our wedding was awesome, don't get me wrong (it was the sickest party I've ever thrown and more on that later), but Saturday night at the BPBX was really amazing and special in its own right.
This was the night we got to sit down and catch up with everyone.
It was the first time we'd seen many of our friends and family in a year or more.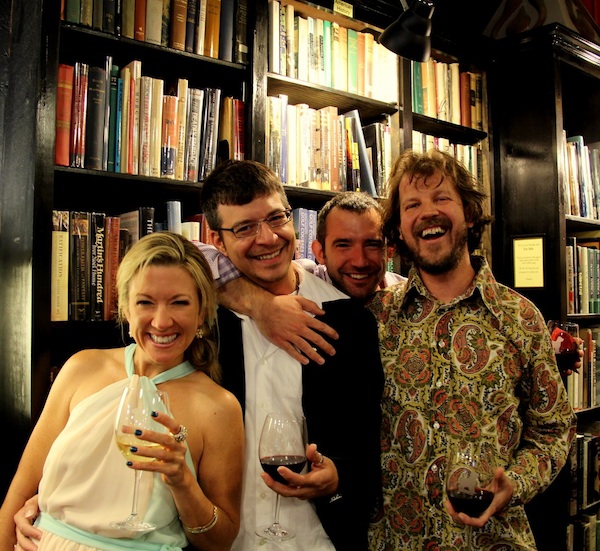 It was the night Vicki fell off of a stool getting a group photo of my friends.
It was the perfect rehearsal dinner, and it was held in a used book store.